Used & Overstock Furniture
---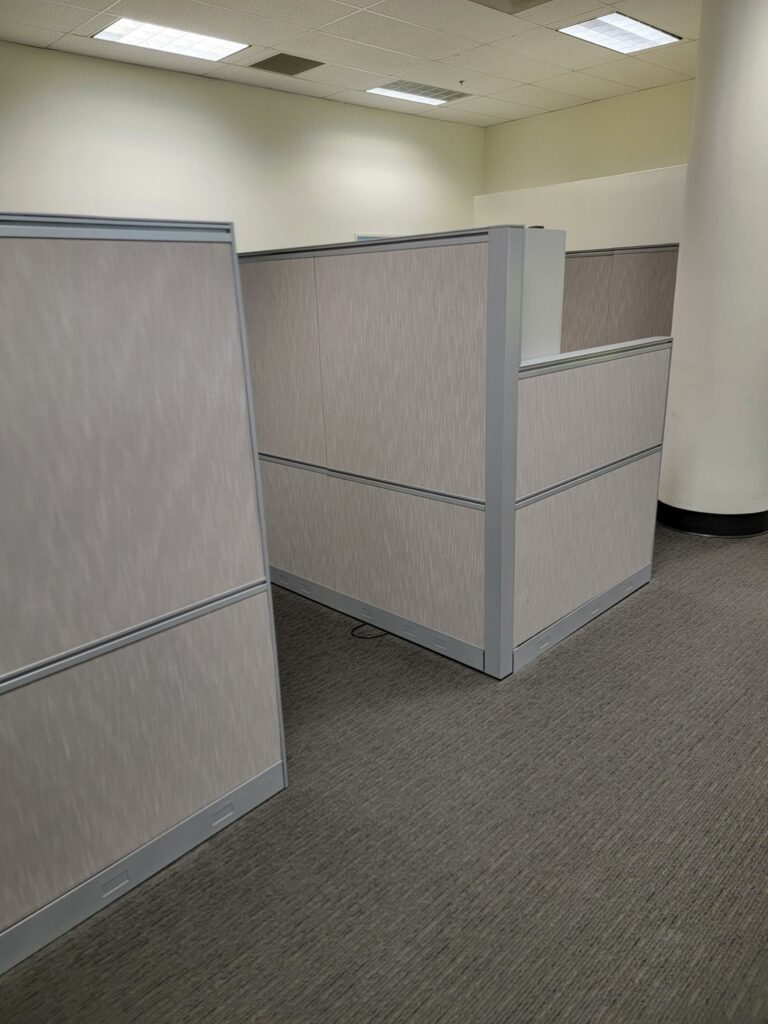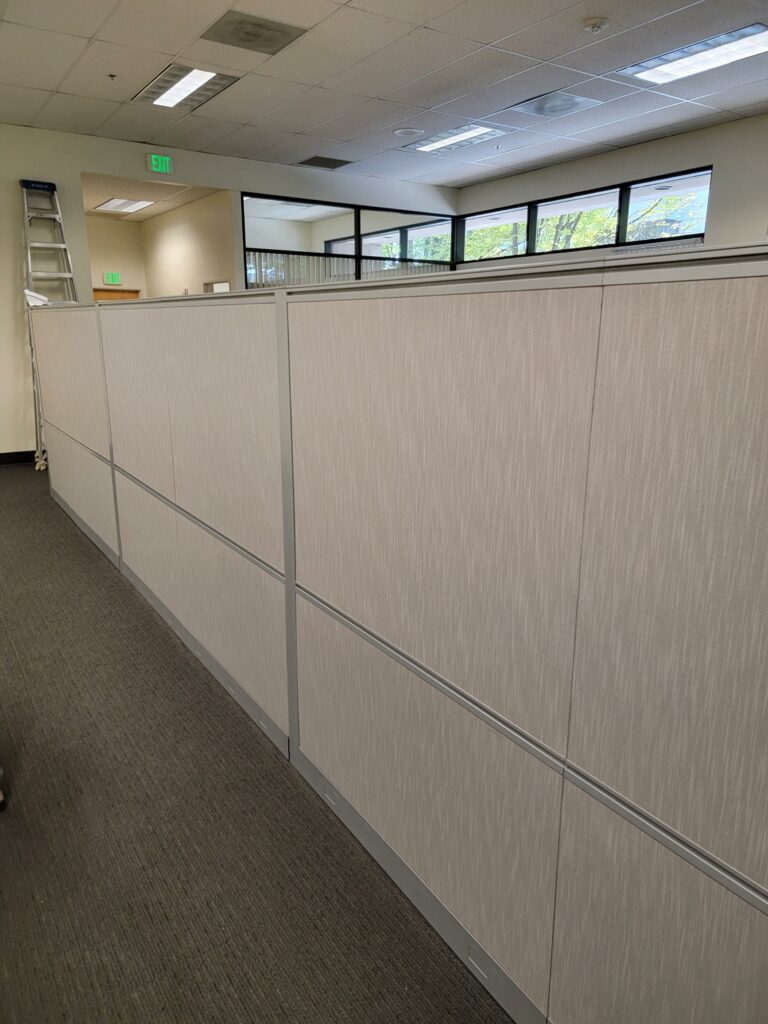 Kimball Office XSite Series Cubicles
Dimensions: 96″ x 96″
Quantity: Inquire
List Price: $5824
Purchase Price: $850
Kimball brand monolithic acoustic fabric panels.
The $850 represents an 96 x 96 cubicle with 7 panels and 3 connectors. Work surfaces may be added for extra cost.
Ask about delivery and installation
---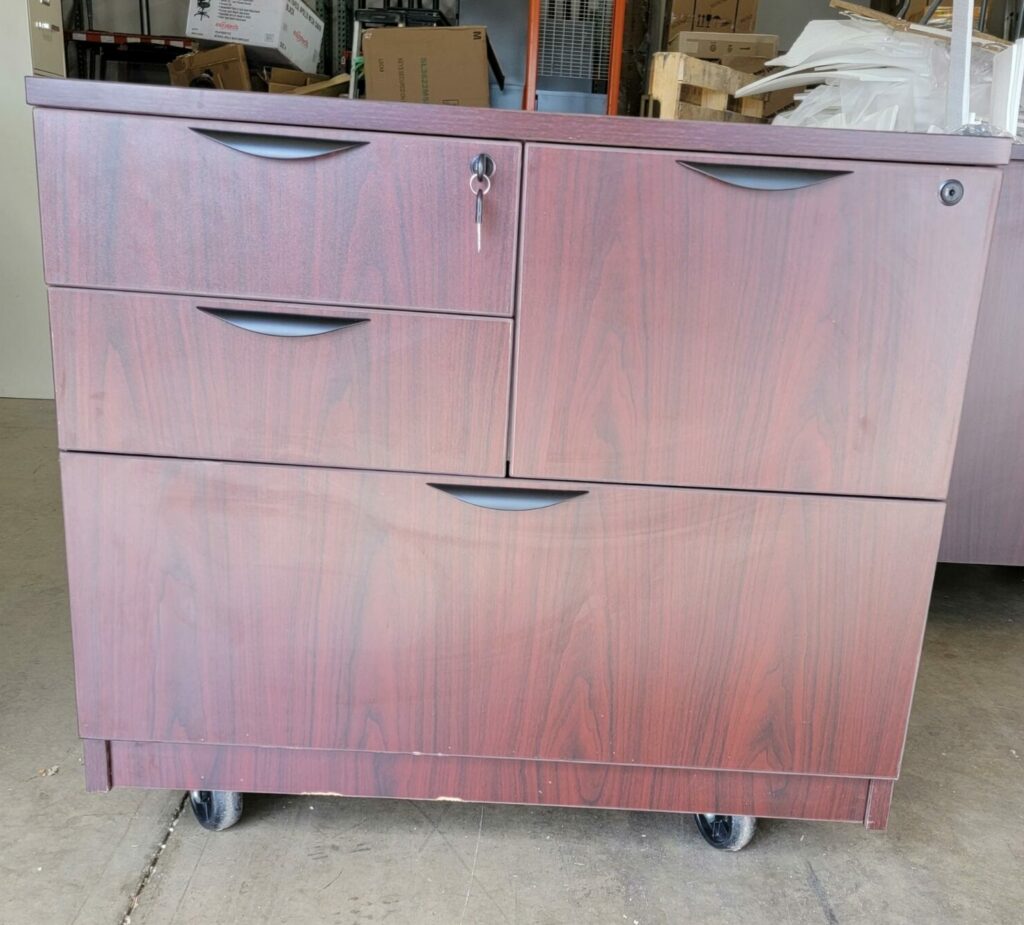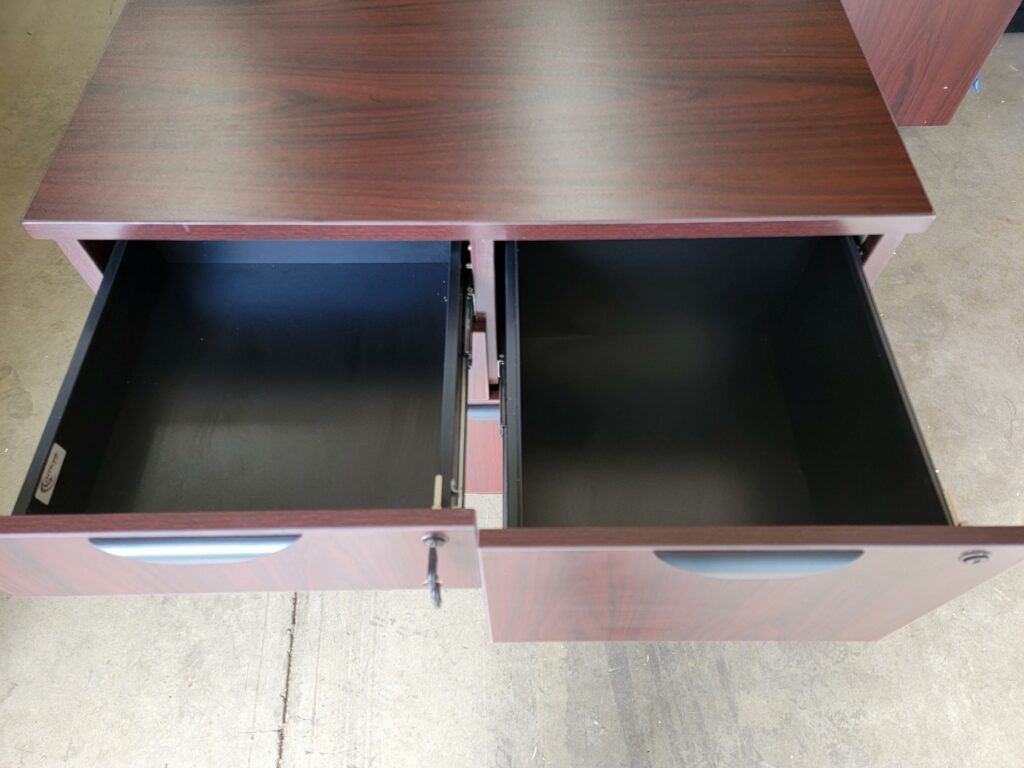 Offices To Go Mixed Storage
Dimensions: 36″w x 22″d x 29.5″h
Quantity: 1
List Price: $988
Purchase Price: $320
Mixed Storage Unit with Lock
Fully Assembled
File drawer construction is for accommodating hanging files NOT for stacking materials on the drawer bottom
The finish is American Mahogany
Brand New Surplus
---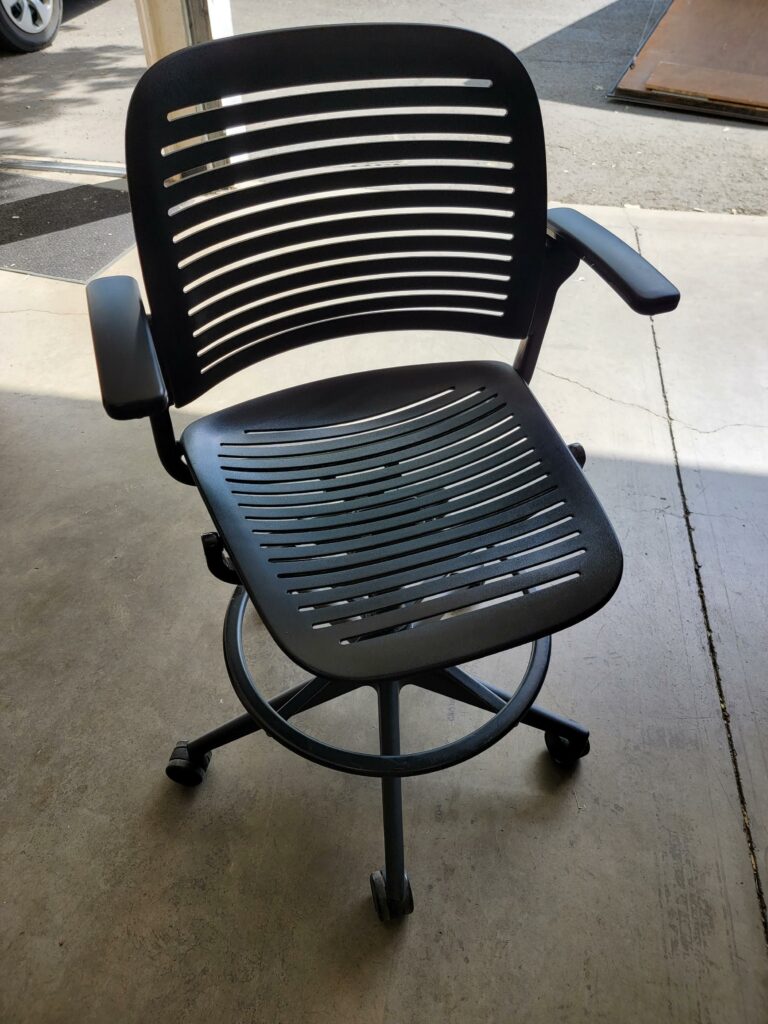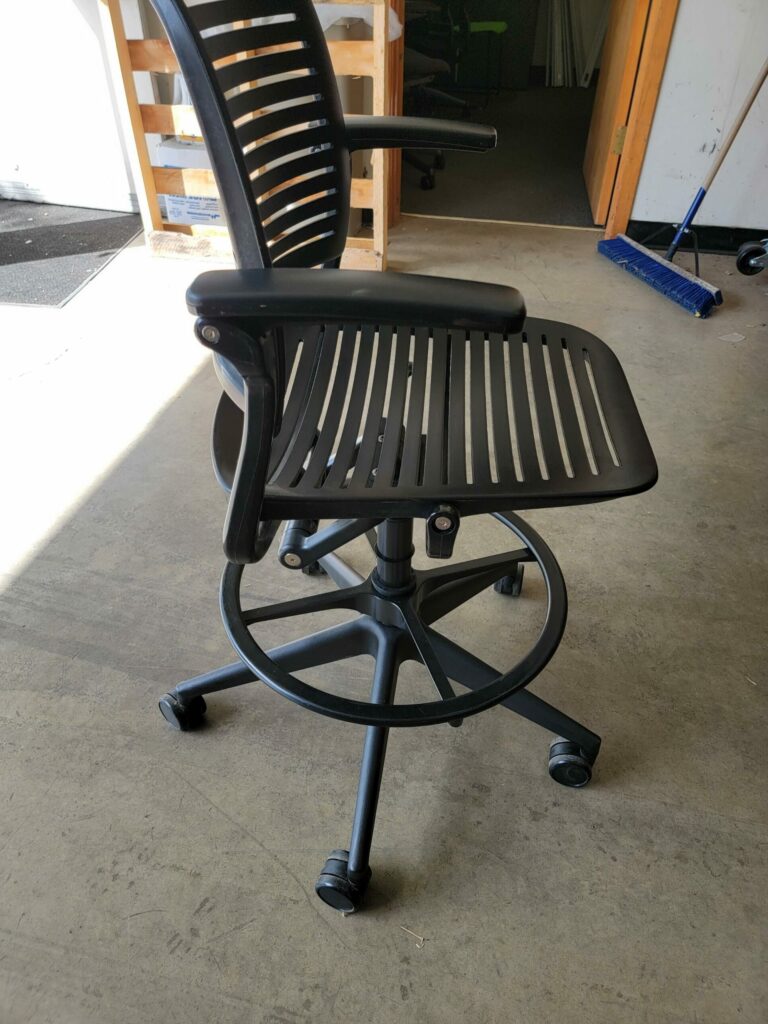 Steelcase Cachet Task Stool

Quantity: 1
List Price: $650
Purchase Price: $100
Exceptionally durable and easy-to-clean for a longer life
Flexible slotted seat and back evenly distribute body weight
Weight capacity of 300 lbs.
---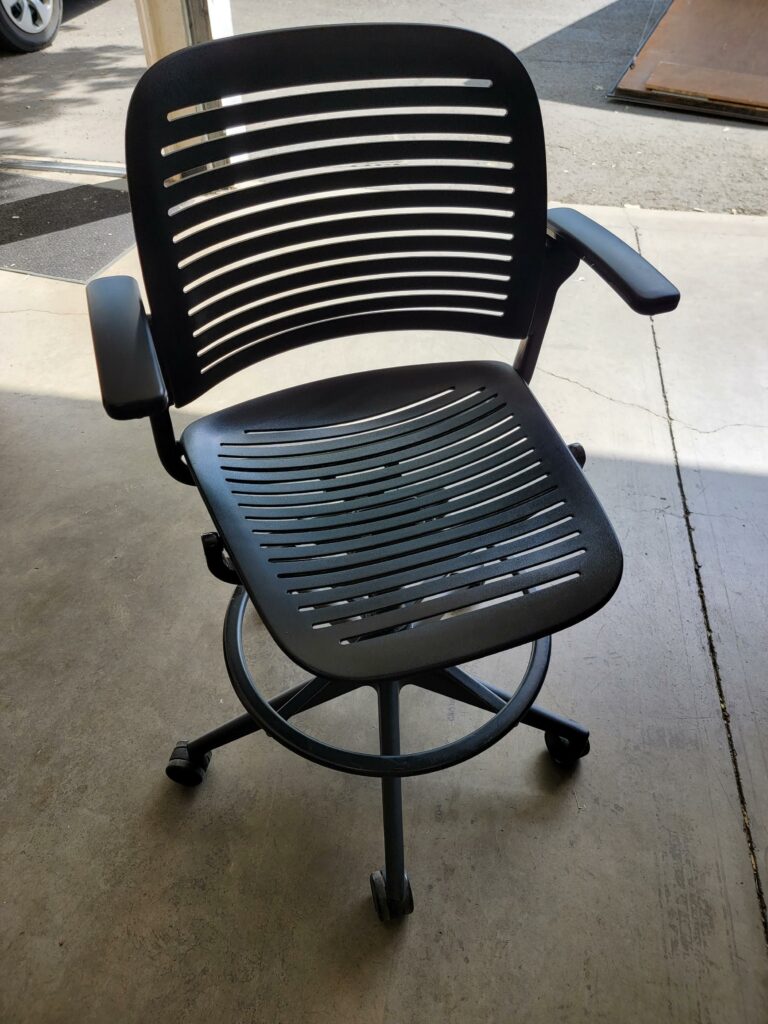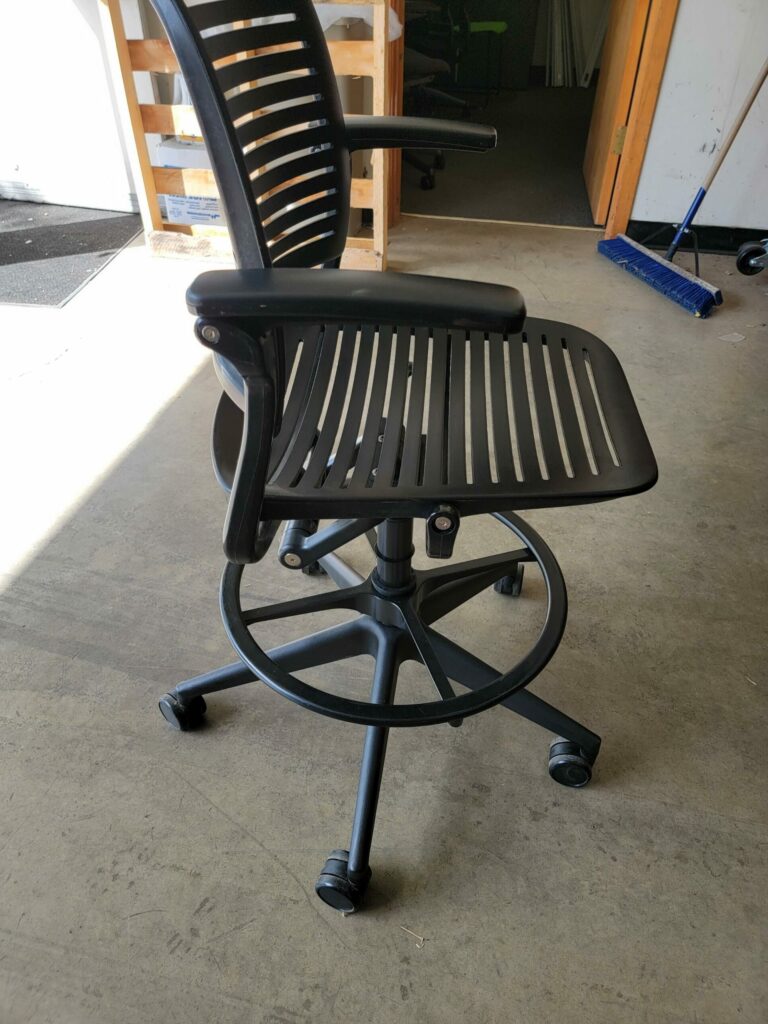 Steelcase Cachet Task Chair

Quantity: 1
List Price: $600
Purchase Price: $100
Exceptionally durable and easy-to-clean for a longer life
Flexible slotted seat and back evenly distribute body weight
Weight capacity of 300 lbs.
---
---
---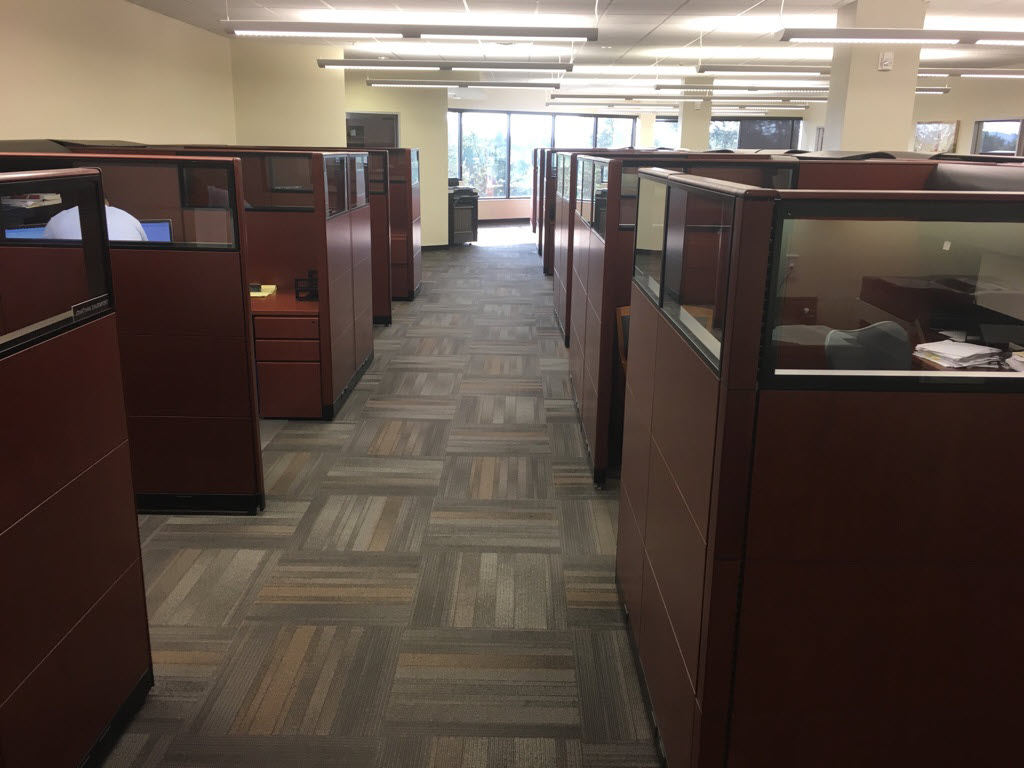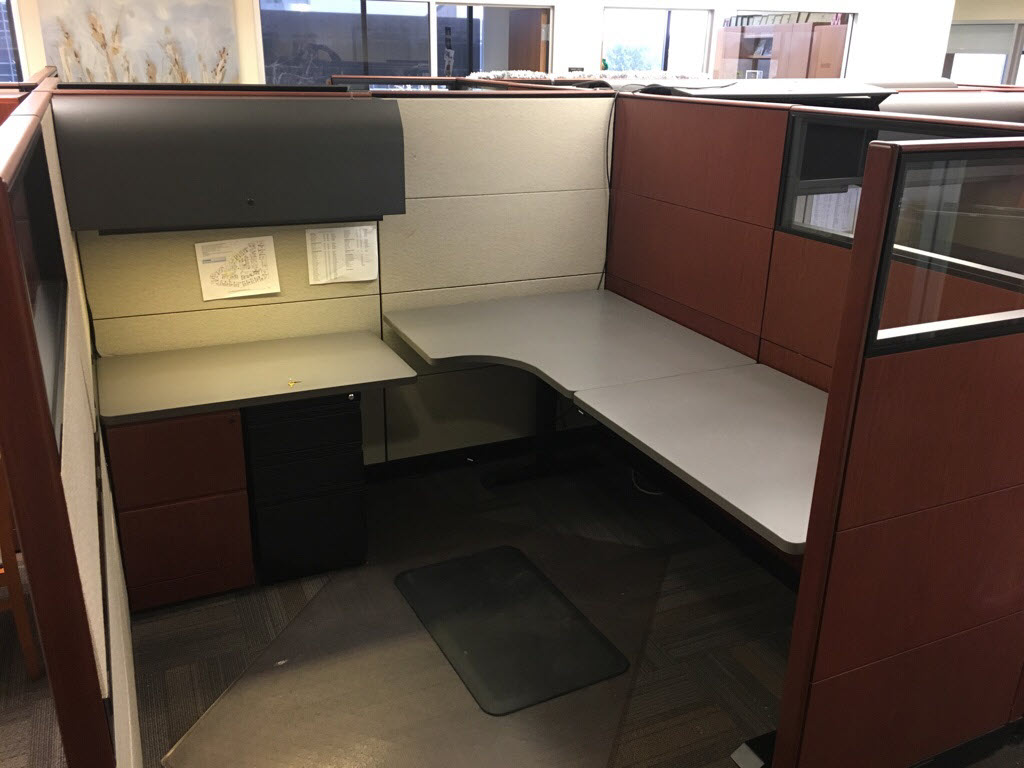 Laminate Acoustic Cubicles
Dimensions: 84″ x 84″
Quantity: Inquire
Purchase Price: $650 / 84″ x 84″ cubicle
Kimball brand frame and tile stack panels
The $650 represents an 84 x 84 cubicle with 7 panels and 4 connectors. Work surfaces are extra.
These cubicle panels are unique in that they can stack in increments of 12″ with no limits on height. Standard panels only go about 68″ tall. Architectural-grade panels can go higher and are a premium cost.
Modules are (1) glass on both sides or (2) laminate on one side and acoustic fabric on the other. Tiles can be changed out, modernized etc.
Work surfaces will need to be free standing or cantilevers will need to be ordered.
Your purchase includes a power harness in the raceways.
Power whips are available at extra charge.
Ask about delivery and installation
---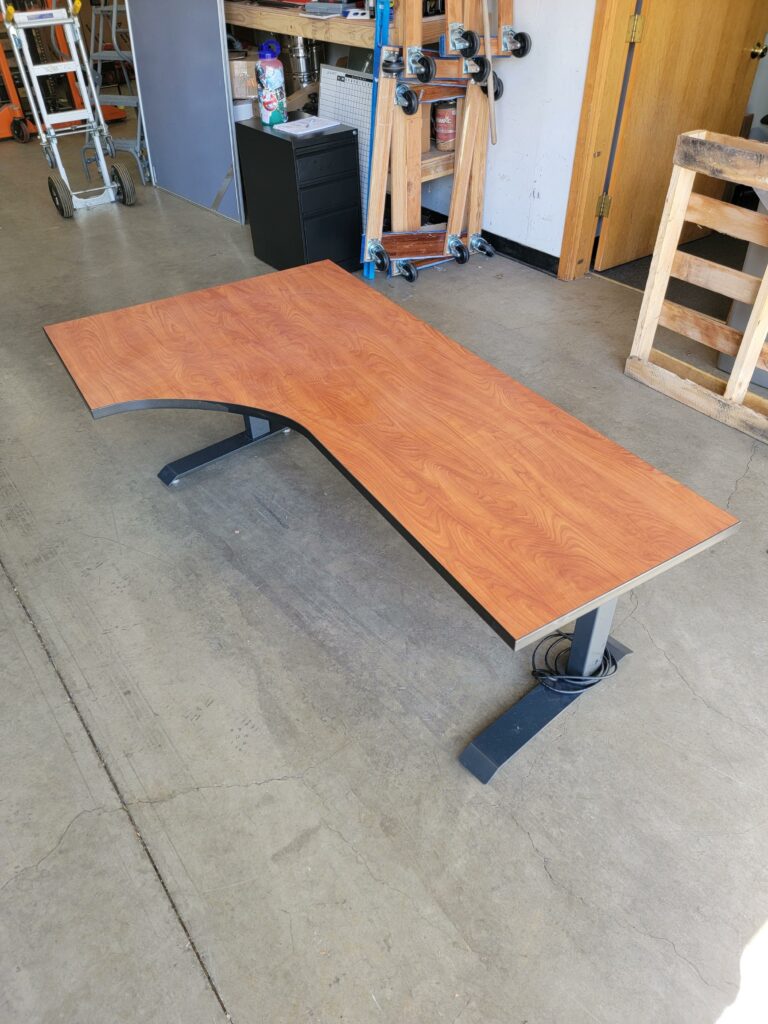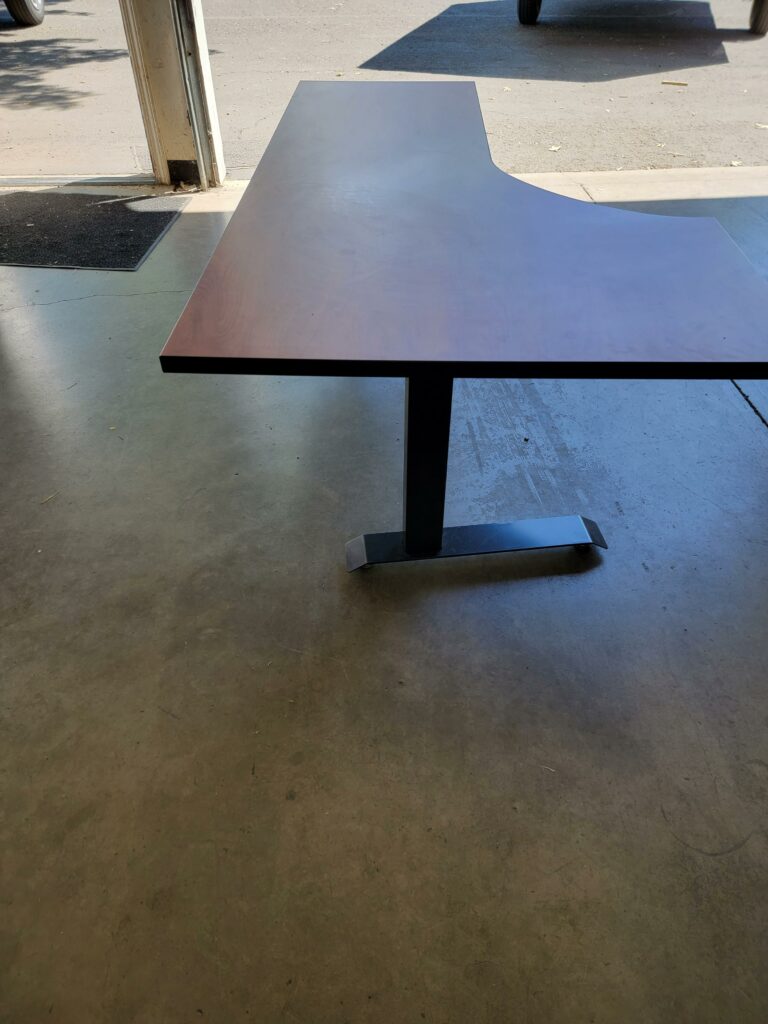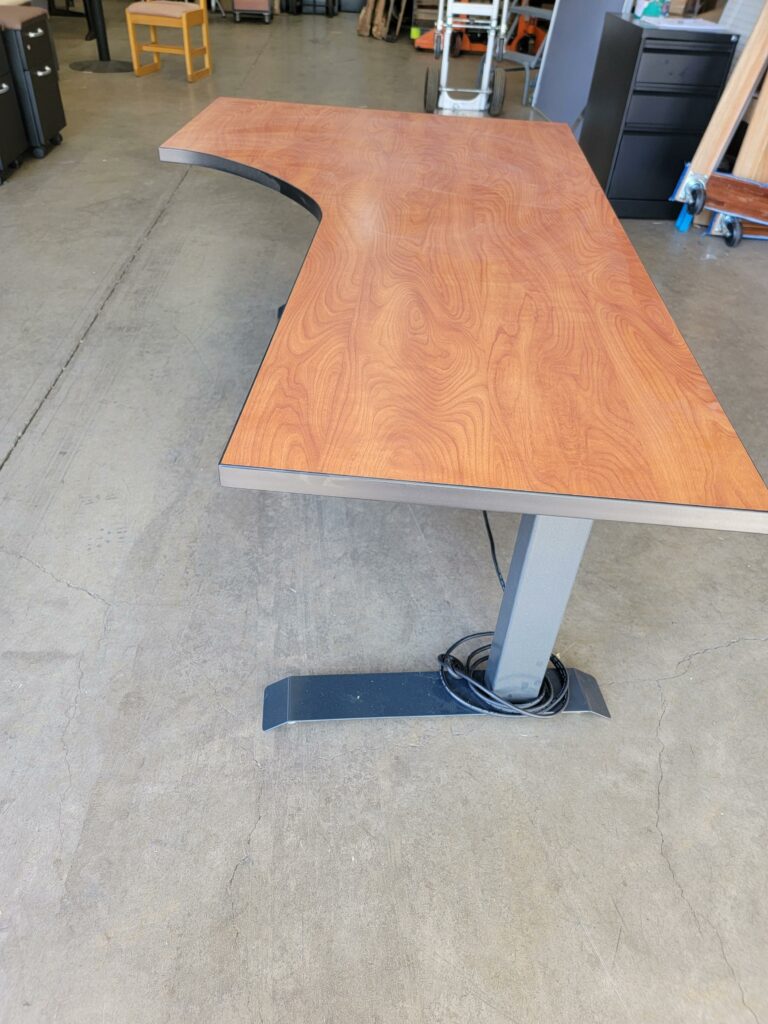 Workrite 2 Leg Electric Height Adjustable Desk
Dimensions: W60 x D30
Quantity: 1
Purchase Price: $350
Payload carry capacity: 225 lb (after top)
MEMS Anti-Collision technology
Height range of 22.5″ To 48.7″ meets BIFMA G1-2013 requirements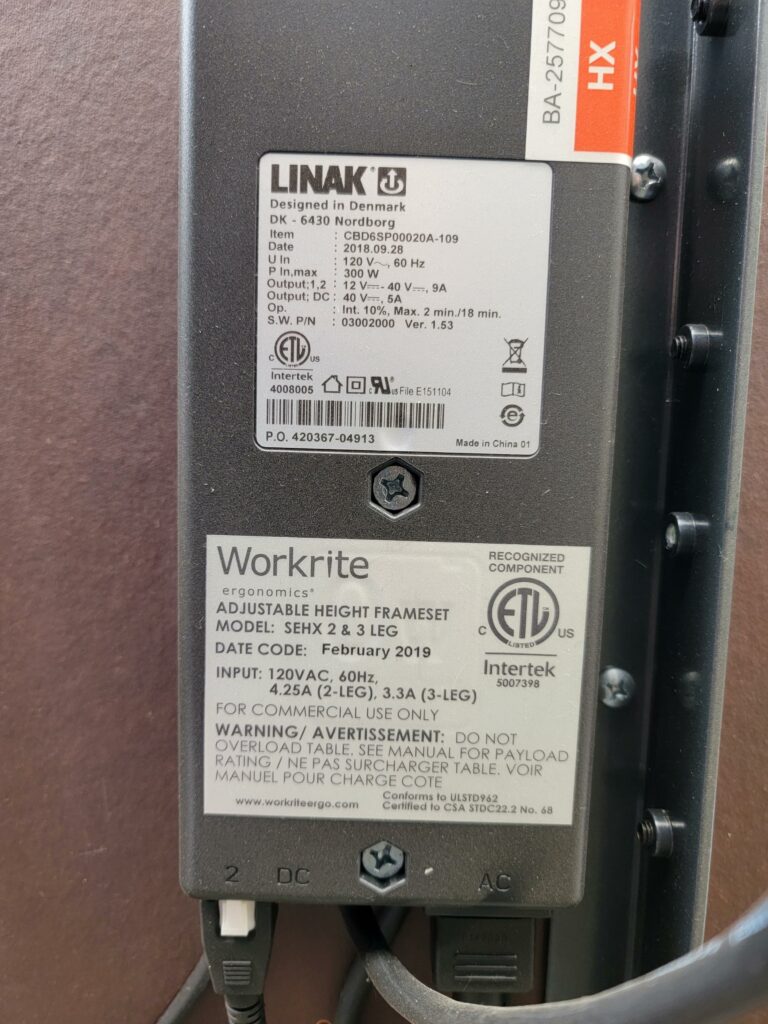 ---
---
---
---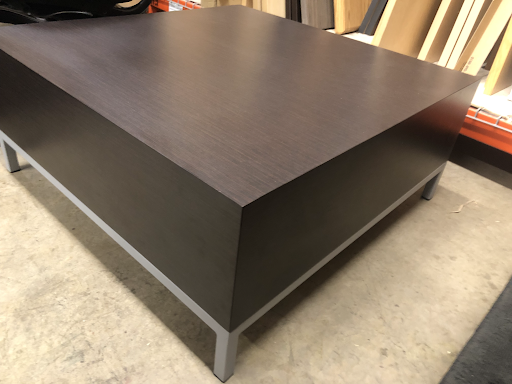 Global Citi™ Coffee Table w/USB Power
Dimensions: W29 x D31.5 x H44.5 IN
Quantity: 1
List Price: $2853
Purchase Price: $550
Espresso Colored Top with Tungsten Steel Base
An elegant presentation with timeless appearance.
Model: Citi Square
Contains integrated USB power
---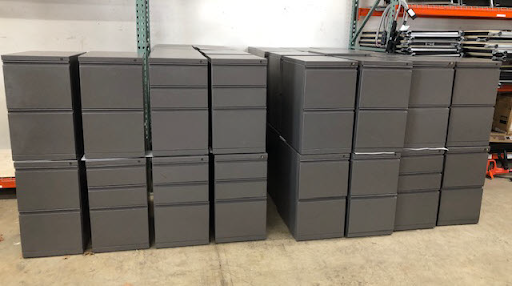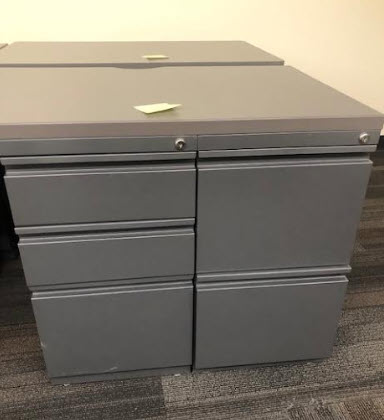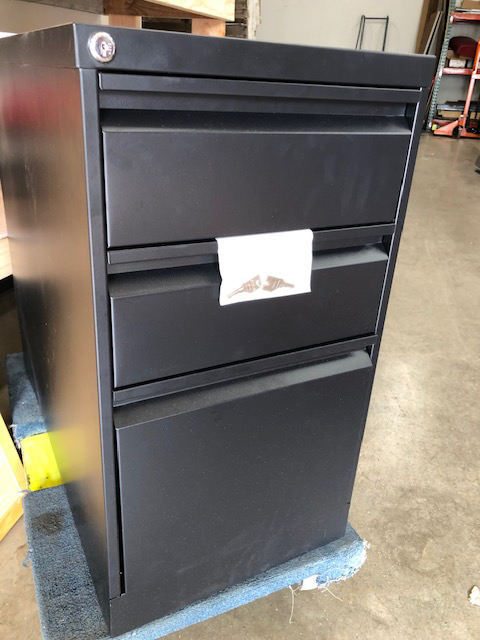 Under Desk Storage
Quantity: 12
List Price: $750
Purchase Price: $140
We currently have multiple brands of under desk storage
2 drawer and 3 drawer configurations
Black, White or Grey
---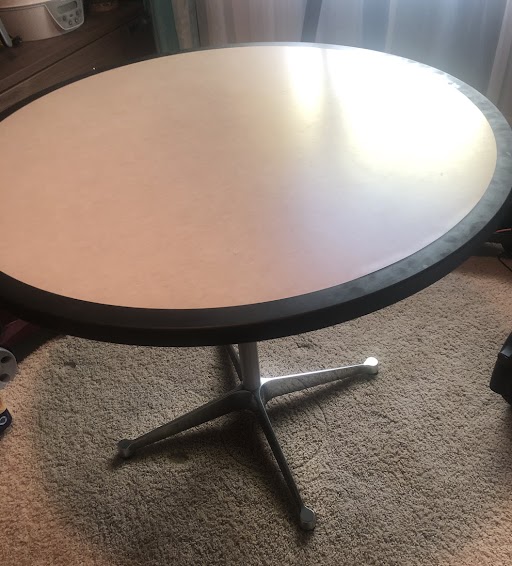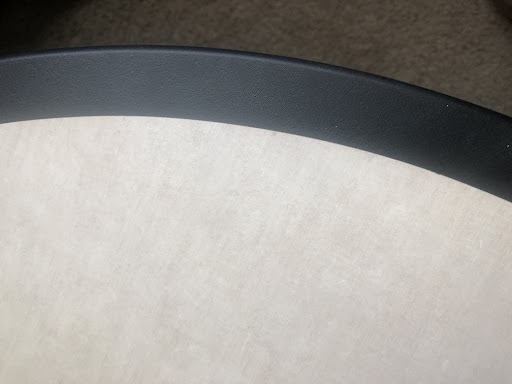 Formica Table w/Restaurant Grade Urethane Edge
Dimensions: 36″ Diameter
Quantity: 1
List Price: $3200
Purchase Price: $150
Formica High Pressure Laminate in a light Linen with a black restaurant grade urethane edge.
Chrome single column base with adjustable glides means it's easy to adjust to any floor.
Easy to clean and will last a long time.
---
---
---
---
---
---
Why used furniture?
At Office Furniture Eugene, we believe there's a better way to create innovative office space. Too many companies are throwing out perfectly good furniture well before its intended lifespan has ended. Quality-built furniture – the kind of furniture we supply – is capable of a very long life before being tossed into a landfill.
To reduce our footprint, Office Furniture Eugene increases the lifespan of office furniture by:
Repurposing furniture on-site when possible, helping to keep projects on-budget
Making modifications to existing furniture
Storing used equipment with lots of life left for other clients or individual needs
Our used and overstock furniture means incredible deals for our clients and individual customers. A selection of our available used and overstock furniture can be found below. Our warehouse is not open to the public, so contact Office Furniture Eugene with your specific needs to find out if we have the office furniture and equipment on hand for your job.
---