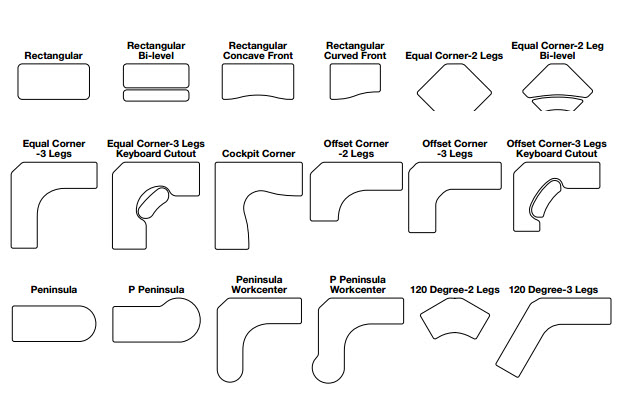 Office Furniture Eugene has been helping customers choose desks for a variety of different purposes for a long time. It can be overwhelming to evaluate the market and truly understand the advantages and applications for the many styles of desks out there.
We've put together the following guide based on our years of experience. If you're in the market for a desk, we, of course, recommend contacting Office Furniture Eugene for professional help. But the next best thing you can do is consult our guide here.
---
Table of Contents
---
Desk Shapes
---
L-Shaped Desks
L-shaped desks are designed to fit into corners, making them a great option for small spaces. They offer plenty of workspace and often have built-in storage options, such as drawers or shelves, though we prefer modular options that can be outfit to meet the needs of each individual employee. L-shaped desks can come in a variety of materials and styles, from modern to traditional. Examples include: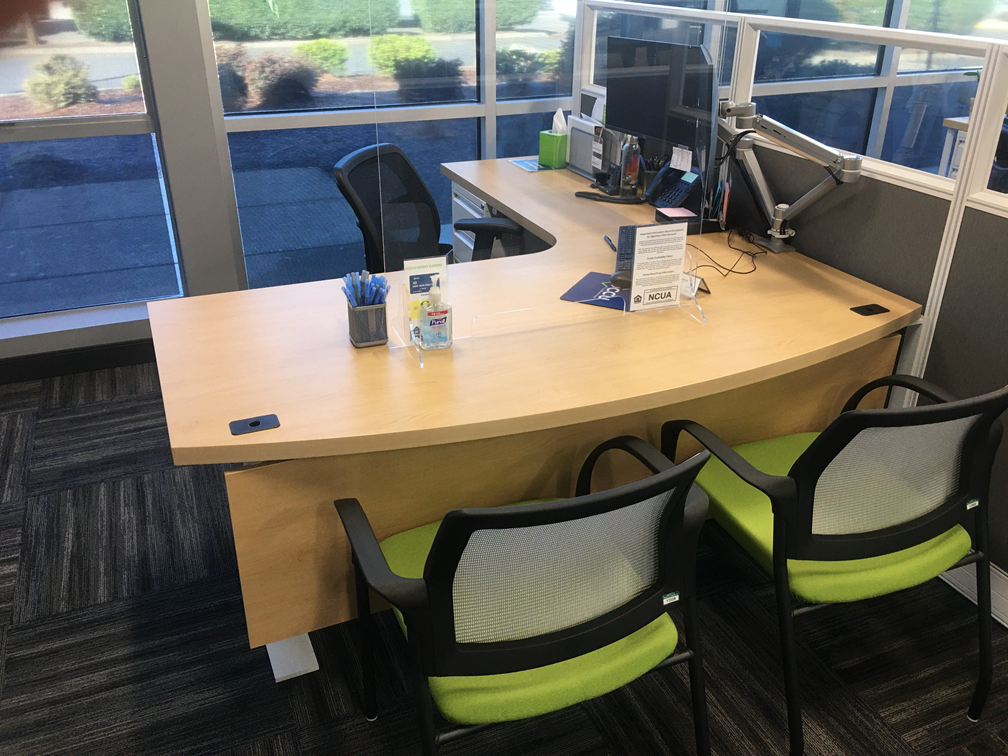 U-Shaped Desks
U-shaped desks encompass many variations, especially when viewing a desk as a modular application (see below). Here are just a few examples: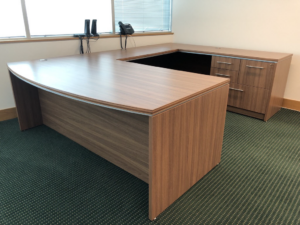 Bow Front Desks
Bow front desks are probably the most popular executive style desk. We believe this is because of its overall shape and design – the curved front edge provides a spacious work area and much needed knee space in the front. Unlike the old and bulky one-piece desks you may be familiar with, modern desks are shipped knocked down and require assembly. This style is ideal for someone who needs a lot of desk space and enjoys a classic look.
Bi-Level Desks
Bi-level desks feature two levels of workspace, providing ample space for a computer, paperwork, and other work-related items. They offer a modern and unique look and are often made of wood or metal.
Sit-Stand Workstations
---
Sit when you get home – what a change!
Adjustable height desks are in high demand in any modern office setting. Sit-to-stand desks can be electric powered, or rely on hand cranks, pneumatic systems, and pin engineering.
Employees standing at their desks burn more calories and have improved circulation. Often, standing intermittently throughout the work day will also improve morale and productivity. Standing desks are a frequent recommendation when we conduct ergonomic assessments for our clients.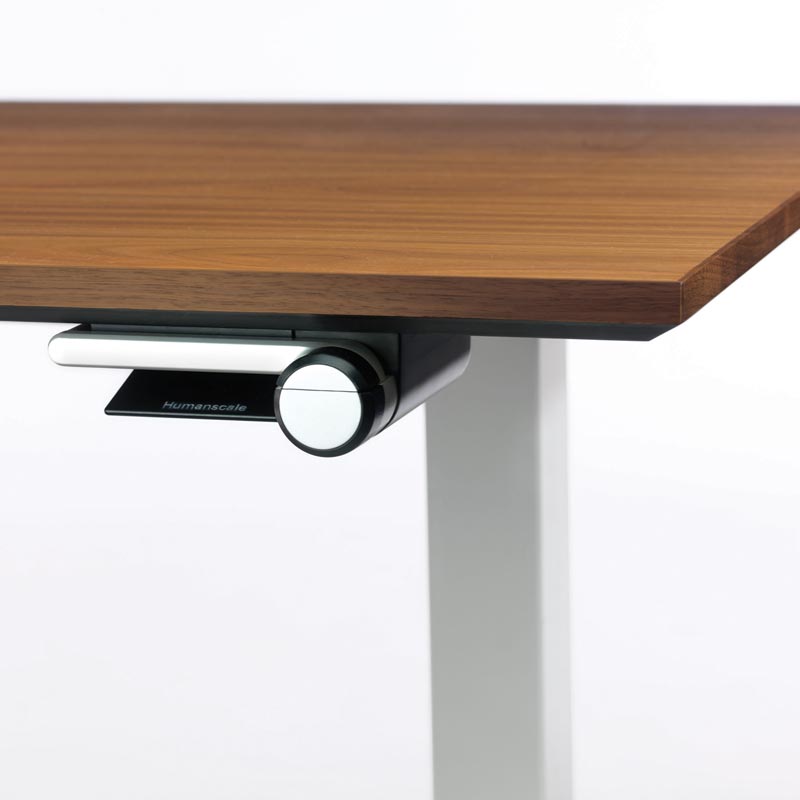 Cost-Effective Sit-Stand Upgrades
Our team knows that office furniture upgrades can be expensive, but sit-stand desks are worth the investment. Desk tops and legs for sit-stand desks can be purchased separately, so we can consider your existing furniture when planning for an upgrade and repurpose existing desk tops, ensuring your project comes in on-budget.
Walking Desks
Walking desks, also known as treadmill desks, are designed for individuals who want to stay active while they work. A spin on sit-stand workstations, they add a treadmill surface that allows you to walk while you work. Walking desks offer a unique and innovative way to stay healthy and productive.
Once again, the treadmill components can often be purchased separately and utilized with an existing sit-stand desk.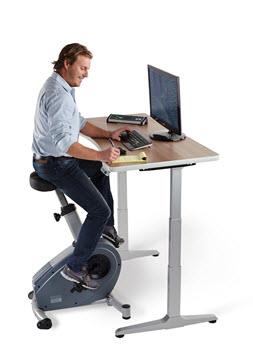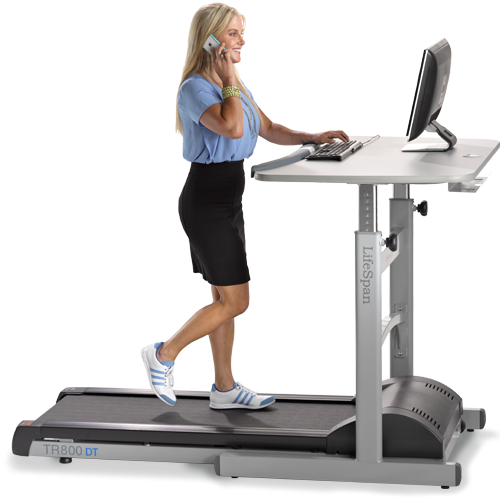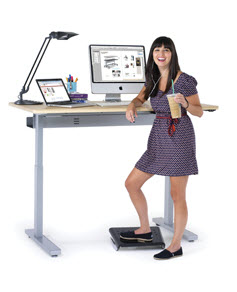 Finishes
---
Regardless of the style of desk you choose, all desks come with a variety of finish options.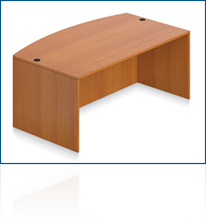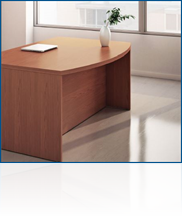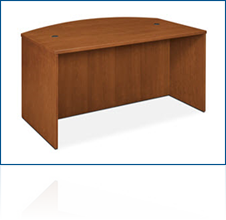 Thermofuse
Thermofuse, also known as a thermally-fused laminate (TFL) finish, is a high-pressure laminate and veneer. Thermofuse finishes are 1-3 millimeters thick, while traditional high pressure laminate finishes are 1/8″ thick, making for a final product that's easier to move around. Advantages include:
Durability – a thermofuse finish is highly resistant against scratches, stains, and other wear and tear, making it great for high-traffic commercial applications.
Easy to clean – no special cleaning products or maintenance required here.
Cost-effective – the thermofuse features compete with wood veneer at a more competitive cost.
Customizable – thermofuse can come in finishes that resemble wood grain, stone, metal and more.
Environmental – thermofuse finishes are often made of recycled wood fibers, and don't include volatile organic compounds that can be harmful to people and the environment.
High-Pressure Laminate
By far the most preferred type of top finish material used when making desks is High Pressure Laminate (or HPL). HPL finishes are available from a variety of name brands, including Formica, Wilsonart, Pionite, and Nevamar.
HPL and thermofuse finishes are very similar, but HPL is generally more durable and customizable than thermofuse, and therefore can cost a bit more. But both are excellent products we recommend often.
Veneer
Finally, there are veneer finishes. A veneer is a real-wood finish on a desk applied over the substrate (usually particle board or MDF), so the final product looks like solid wood. These finishes are aesthetically pleasing and more cost-effective than a solid wood finish.
Modular Construction
---
Across all the kinds of desk options out there, the best commercial grade desks are built as modular pieces. Like Lego's, each component is separate from the others.
At Office Furniture Eugene, we start with a desk shell and add drawers and a return. Drawers come in any imaginable configuration. Have other needs? We can outfit desks in a large variety of ways.
Do you prefer tiny personal drawers? Standard 5 inch high drawers? File drawers? Legal size? Do you need a pencil drawer? These are all features that live independent of your desk shell. When shopping for office desks, make sure you consider the modularity of your choices so that you can meet the needs of all your employees.