A staple of any conference room or classroom is the dry-erase board – a flexible writing surface for quick iteration and brainstorming.
At Office Furniture Eugene, we can supply whiteboards for a variety of applications. Our options include: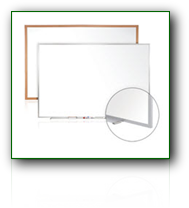 Inexpensive Acrylate Boards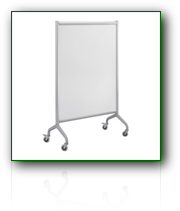 Mobile Boards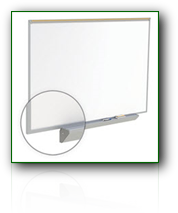 Porcelain Magnetic Boards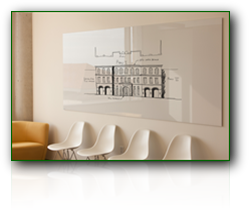 Glass Boards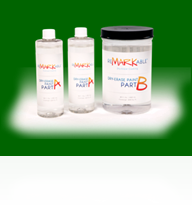 Coatings
Materials
Materials available include glass marker boards, porcelain white boards, high pressure laminate white boards, enamel painted whiteboards (over steel or aluminum), melamine white boards (when budget is an issue) and we can even "paint" your whiteboard directly onto your wall (clear or white). Boards can be magnetic or anti-reflective, replacing fragile and troublesome pull-down screens.
Colors
White boards are also available in many colors other than white with many standard colors and even black (for use with neon markers). And you can get your white board pre-printed with light guild lines or custom printed information. The best quality boards offer printing "behind" the writing surface for easy cleaning and bump less writing.
Sizes & Frames
White boards are available in many different standard sizes and can be custom sized. We have installed white boards that go from floor to ceiling, wall to wall that almost look like they are one piece (panels have flush edges). You can get a wide range of frames including aluminum, wood, laminate, tubular, chrome, painted metal, closable cabinet (wood & laminate) and even frameless (with matching thin PVC edge banding).
Anchoring
Excellent quality white boards (and opaque glass marker boards) can be affixed to walls with Z-clips for minimum standoff and a solid feel (plus you can locate and anchor securely to wood or metal studs). Other anchoring methods can include cubicle hangers, cubicle accessory bars and simple picture hooks. Glass marker boards offer a variety of mounting options including predrilled holes for standoff hangers, edge grips, and edge strips.
Portable & Moveable Whiteboards
Many clients are getting portable white boards, both those with casters and lightweight materials to take back & forth from meetings.
Portable white boards can be arranged in larger spaces to create small teaming areas that facilitate creativity within breakout sessions. And smaller ones can be pushed into conference rooms, used for notes, and then pushed into a storage area or back to an office or work area and held until the next meeting. This eliminates the need for those questionable "DO NOT ERASE" messages that so often get ignored.
The portable units available from Office Furniture Eugene are sturdy and well-built, with good sized casters. We'll even come out and measure your elevator to ensure they can be transported across floors!
For dry-erase needs and more, contact Office Furniture Eugene today.